The Tasteful Olive – Welcome Good Eating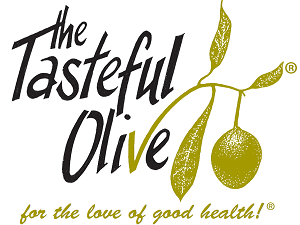 The BariGirls are excited to announce a partnership with The Tasteful Olive.  The Tasteful Olive was formed in March of 2010 by Jeanne and Jay Mackay.  After experiencing and learning all about extra virgin olive oil and balsamic vinegar and their amazing health benefits, Jeanne and Jay turned it into their passion. 
Now in business for over 12 years, The Tasteful Olive was the first olive oil and vinegar store in the Kansas City area, and it has become so much more than that, offering other healthy food products, classes, education, and more, all for the love of good health!
The Tasteful Olive will educate you on how to pair the oil, educate you on the benefits of olive oil and cook with the oil.  The pureness of The Tasteful Olive oils and balsamic vinegars is truly a delight in flavor.  The benefits of olive oil include:
 Olive oil is a health fat. Extra virgin olive oil (EVOO) means an oil "obtained solely from the fruit of the olive tree, it excludes oils obtained using solvents or mixed with other type oils, and (the olives have no defects).
Olive oil should be fresh.  Only fresh 100% extra virgin olive oil contains all antioxidant and bioactive compounds.  These substances such as Vitamin E and Vitamin K and phenols protect the body from negative effects of free radicals, which are a major cause for degeneration of the cells and early.  The aging process can slow down because olive oil's use, as the cells are more resistant to oxidation.
The benefits of balsamic vinegar include:
Blood Sugar/ Diabetes:  Real balsamic vinegar is low on the glycemic index (about 5-15 grams fruit sugar/tablespoon) and doesn't cause spikes in blood sugar levels.  Research conducted revealed that consuming three to four tablespoons will enhance your insulin sensitivity (higher insulin sensitivity equals better diabetes control).
Pain Reliever:  Balsamic vinegar was used in ancient times to relieve people of pain.  People suffering from headaches and migraines found relief by taking some balsamic vinegar.  This vinegar can also be used to treat infections and wounds as it has anti-viral and anti-bacteria properties.
Stay with us and we give you the tools you need to get and stay on the healthy eating track with some of our partners while we create great meal combinations using benefit products.  Yumminess overload!!!!!!!!!!!!!!!!!!!